NWS preliminary data says EF-3 tornadoes tore through Middle Tennessee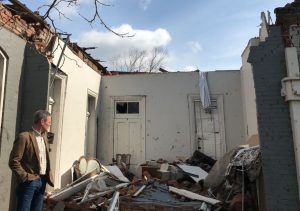 President Donald Trump announcing his plans to visit tornado-torn middle Tennessee on Friday.
"We will get there and we will recover and we will rebuild and help them. Condolences. Just a tough, tough situation," he said.
Trump addressing the National Association of Counties just hours after sending teams of FEMA workers to the Nashville area after what National Weather Service officials are calling the touchdown of EF-3 tornadoes after a preliminary assessment of damages. Those have sustained winds between 155 and 160 miles per hour.
Governor Bill Lee has toured damage in Nashville where 48 buildings have collapsed and conducted aerial tours along with Tennessee emergency officials. The death toll now stands at 21 people.
(PHOTO: Office of Governor Bill Lee / Facebook)