UPDATE: Lee says appointment to Capitol Commission to deal with Forrest bust coming soon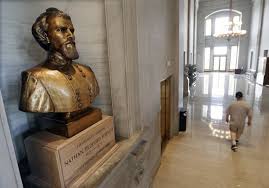 Tennessee Gov. Bill Lee said Tuesday he will make an appointment in the coming months to a panel considering what to do with the bust of a Confederate general and early Ku Klux Klan leader in the Capitol.
The Republican told reporters other priorities have arisen since the Capitol Commission slot opened last month shortly before the group met for public comment on the bust of Nathan Bedford Forrest.
"There have been other things that have filled the docket between that point and now," Lee said. "But we will be making an appointment to that commission over the next few months and they will be meeting again. They haven't determined when they will be meeting. But I'm sure that will unfold over the next several weeks."
Dealing with devastating tornadoes and the coronavirus has taken precedent in Nashville in recent weeks and has pushed the hot button issue to the back burner.
(PHOTO: AP)