THP: Three vehicle crash involving school bus in Jonesborough injures two students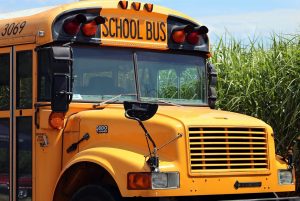 Two minor injuries to students were reported following a multiple vehicle crash involving a school bus Friday in Jonesborough.
According to a Tennessee Highway Patrol crash report, a school bus was stopped in the left lane to load children on West Jackson Boulevard near the intersection of Creasy Road. Another vehicle was stopped in the right lane when it was struck by a 1998 GMC Sierra, driven by 75-year old Herbert Thomas. Then the vehicle driven by Thomas struck the bus in the rear.
THP says two students received minor injuries and were taken to the hospital by their parents. Thirty-three students in total were on board, and no other injuries were reported in the accident.
Thomas received charges of failure to stop for a school bus, failure to yield, and driving on a suspended license.