UPDATE: City, county leaders plead for social distancing, cancelling trips to fight COVID-19 in Tri-Cities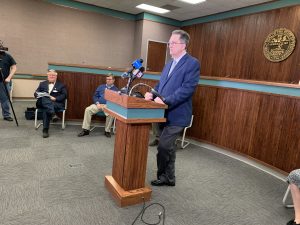 "We're at a tipping point where we can begin to see community spread and this is the point where either we are going to be successful and contain it or we're going to watch it spread."
Ballad Health CEO Alan Levine at a gathering of city and county leaders in Blountville pleading with residents to cancel travel plans and stay inside as much as possible in the coming days with COVID-19 continuing its expansion across the US.
Sullivan County Medical Director Dr. Stephen May says the recent cases diagnosed in the locality were residents who recently returned from traveling abroad and wants people to be on alert as more individuals take trips for spring break.
"And what we know is social distancing and these closures, people washing their hands, folks doing the right thing if they're sick and stay at home, seek testing when it's appropriate, is the right measures. We do not want to look like other parts of the country," May said.
(PHOTO: T. Adams / Super Talk 929)