UPDATE: Wanted armed and dangerous suspect captured in Church Hill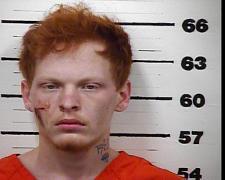 Police in Hawkins County have captured an armed and dangerous man wanted for several charges including two counts of aggravated assault on officers and theft of a vehicle.
The Hawkins County Sheriff's Office says yesterday they served a warrant to arrest Devin Rose, 19, at a home in Church Hill. Rose's girlfriend Haley Powell and her mother Amy Powell advised no one was at the home, according to a police report, but officers say they later found Rose hiding under a bed in a locked bedroom. Haley and Amy Powell were also arrested and charged with accessory after the fact.
The arrest stems from an incident on Tuesday evening, where a Hawkins County deputy responded to a report of a possible location to a stolen vehicle at the Whistle Top Store in Church Hill. They then responded to a home on Hickory Hills Road in Church Hill, where they located Rose. Deputies told him to stop, but Rose fled on foot, got into the stolen vehicle, and drove away, nearly striking the deputies. Rose then drove off, striking multiple fences, and collided with a patrol car, causing damage to the cruiser.
A report said Rose then struck another patrol car, crashed, and then fled on foot again. Among the charges placed on Devin Rose are as follows: Three counts of Reckless Endangerment, Possession of Stolen Property, Evading Arrest by Motor Vehicle, Two counts of Evading Arrest by Foot, Reckless Driving, Vandalism, Three counts of Leaving the Scene of an Accident, Three counts of Failure to Report an Accident, Driving on Suspended License, theft of property over $10,000, and two counts of Aggravated Assault on an Officer.
The Hawkins County Sheriff's Office says the investigation is ongoing.
Photo Courtesy: Hawkins County Jail