Protective zone placed around Appalachia apartment complex to prevent spread of COVID-19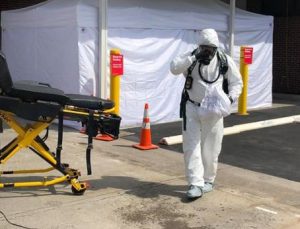 A Southwest Virginia town has taken paramount measures to protect the public during the COVID-19 pandemic.
A police barricade line and protective zone were established Friday morning that surrounds the perimeter at Appalachia Towers following several confirmed coronavirus cases.
The owners of the complex, the Wise County Housing Authority, says residents of the property are being provided with essential items including medication as they are quarantined for 14 days after an order from the Lenowisco Health District.
The statement said anyone who does not have proper authorization to enter or exit the building will be subject to possible police charges.
The Wise County Office of Emergency Management said Oak Grove Baptist Church is currently accepting monetary donations to assist the residents of the Appalachia Towers during this difficult time, please send to:
Oak Grove Baptist Church
8 East 11th Street North
Big Stone Gap VA 24219
(PHOTOS: Appalachia Fire Department / Facebook)