Abingdon Police: Several roads closed due to flooding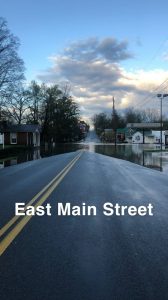 The Abingdon Police Department has closed several roads due to widespread flooding in the town. The department has listed the following closures:
• Deadmore Street (from Valley Street to Main Street)
• Walden Road (between the S curve to Thompson Drive)
• East Main Street (between Tanner and Deadmore Street)
• Tanner Street (between Park and Main, not closed but high water. Also, rendering the alley behind Frost Funeral Home)
• Tunnel Street (At Hillman Highway, not closed but high water)
• Green Spring Road is CLOSED from A Street to Robertson Road.
*Pecan Street from Main Street to Valley Street is CLOSED due to a tree down on Plumb Alley, that took out power lines last night.
Photo Courtesy: Abingdon Police Department