Appalachia Towers residents receiving help through donations, distribution of food and drinks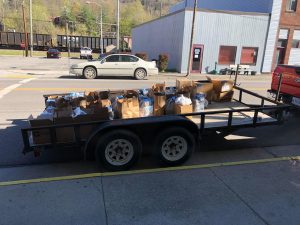 Residents in Appalachia Towers in Appalachia, VA currently barricaded due to multiple COVID-19 cases confirmed among tenants have received numerous supplies from organizations and individuals.
A Facebook post from the Town of Appalachia Fire Department says help has been nonstop from churches that have provided food, employees at USP Lee and the Pepsi Bottling company who provided water and soda, and even a donation of pizza by Joie Cantrell and her mother to every resident at the towers.
An anonymous donation was also made, and other nearby organizations like Wise County Social Services and the Health Wagon have provided help.
Churches that helped include Oak Grove Baptist Church, East Stone Gap Methodist Church, and according to the fire department, this was a joint effort between the Appalachia UMC, Derby UMC, Legion UMC, East Stone Gap UMC and the Appalachian District of the UMC.
Photo Courtesy: Appalachia Fire Department