NEW: Lee recommends closing schools in Tennessee for remainder of calendar year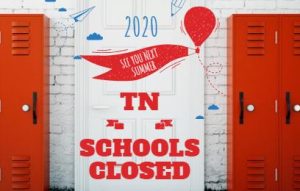 UPDATE, 5:30 p.m.
A statement issued Wednesday afternoon by the TSSAA says the remaining games in the Boys and Girls High School state tournaments have been canceled for all classifications. The spring sports calendar in Tennessee had been cleared last month.
__________________________________________________________________________________________________________
Tennessee Governor Bill Lee recommended closing all public schools for the remainder of the calendar year on Wednesday, completing a move taken last month meant to mitigate the spread of COVID-19 in the state.
Tennessee now joins 12 other states including neighboring Virginia who have canceled classes. Several systems around the region had transitioned to distance learning in the last few weeks after an extended spring break.
School systems in Bristol, Kingsport, and Sullivan County issued a joint statement Wednesday afternoon to announce they will accept Lee's closure recommendation.
While schools are shuttered, a decision has still not been made regarding the competition of the TSSAA boys and girls state basketball championship tournament. Agency executive director Bernard Childress said weeks ago that their group was trying to salvage the games while canceling all spring sports for the year.
Several high schools across the Tri-Cities have graduation dates set but have not made an official word on postponing or not having the ceremony.