Virginia bill related to bizarre pregnancy scam in Scott County signed into law by governor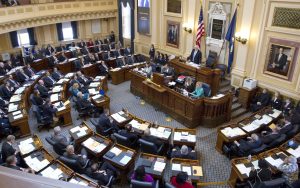 Legislation named for a California couple victimized by a Scott County, Virginia woman in a bizarre pregnancy adoption scheme has been signed into law by Governor Ralph Northam.
Senate Bill 1003 closes a legal loophole that allows an individual to maliciously use an internet device to defraud victims online.
Elizabeth Ann Jones, 35, is currently serving a two-year sentence after pleading guilty to several charges of fraud related to the admitted deception of Matt and Laura Trayte—a couple that had befriended Jones and had agreed to adopt her child. On the day of the supposed delivery, Jones revealed that she misled the couple by faking the pregnancy.
(PHOTO: Commonwealth of Virginia)