COVID-19 claims life of Johnson City native who served as NYPD detective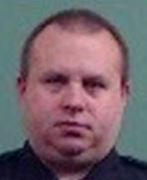 A Johnson City native who became a New York City police officer has died from complications of the COVID-19 virus.
Family members confirmed online that Jeffrey Scalf passed away Monday. According to a report from the NYPD, Scalf was a former Marine who was assigned to the Gang Squad in the Bronx and had been on the force for 14 years.
More than two dozen New York policemen have died of the pandemic disease that NY Detective Endowment Association president Paul DiGiacomo called an invisible bullet.
Jeffrey Scalf was 46.
(PHOTO: NYPD)