Pandemic concerns, low demand causes revenue drop for Virginia Lottery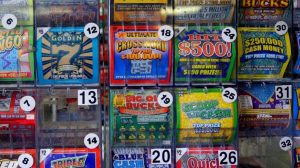 The Virginia Lottery's executive director predicts continued low profits and sales following a recent report that details a drop in ticket receipts.
Lottery sales were down by $45 million in March—a 28 percent drop in profits due to COVID-19 concerns and less demand although lottery products are available at essential businesses like grocery stores.
For the year so far, the Virginia Lottery's sales are down 10 percent.
(PHOTO: Associated Press)