Prosecutors develop witness list for trial of serial killer accused of stabbing Greeneville man to death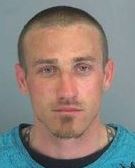 State attorneys in Florida have developed a witness list in the case against a man accused of stabbing three people to death including one in Greeneville last October.
Court records out of Polk County, Florida show prosecutors have filed a list with witnesses to the court, as Stanley Mossburg remains incarcerated on over 20 charges including two counts of first-degree murder. Mossburg allegedly started a two-week murder spree when police say he fatally stabbed Christoper Short at a laundromat in Greeneville, then traveled to Florida where he stabbed two more people to death and held a third person against their will before being captured.
Prosecutors have filed to seek the death penalty, while Mossburg has pleaded not guilty to the charges. He is scheduled to appear for a status hearing on June 26th.
No trial date has been set.