Ballad to bring 500 new jobs to region with new regional operations center in a partnership with Ensemble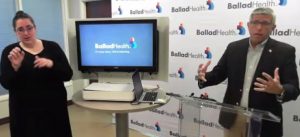 Ballad Health CEO Alan Levine has announced a partnership with Ensemble Health Partners that will see the addition of 500 jobs to the region with the placement of a new regional operating service center.
Ballad, who has used Ensemble services since 2015, now joins several nationwide leading health systems in selecting Ensemble to provide comprehensive revenue cycle services.
"We provide services to health systems all over the United States, and even in Europe," said Ensemble founder and chief executive officer, Judson Ivy. "We could place our newest regional operations service center anywhere, but we chose the Appalachian Highlands as a place we want to invest, grow and become part of the fabric of the community. We could not have done this without the innovative leadership of Ballad Health. They sold us on the region – from the culture and work ethic of the people here in Appalachia to the incredible access to quality education, low cost of living, and the infrastructure, we believe this is an incredible opportunity to become part of the growth story of this region."
"This is a time of hope and opportunity for our region," said Ballad Health chairman and chief executive officer, Alan Levine. "We are certainly faced with unprecedented challenges, but at the same time, we believe now, more than ever, it is time to look to our region as a good place to invest, a safe place for families, and a place where business can be successful. This partnership resulted from innovation and showing the best of what our region has to offer. Once Ensemble saw it for themselves, they were excited about growing here."
Ballad's team members that perform the system's revenue cycle functions were notified of the change Wednesday, and the transition is set to take place immediately. Levine says the Ballad employees that were performing the revenue cycle functions will also transition to Ensemble. There is no specified location made yet for the new operations center.
As far as whether Ensemble will look to move into an existing building, or purchase property for a new building, Ivy says they are examining both options.
Photo Courtesy: Ballad Health