Milligan reveals new logo as part of transition from college to university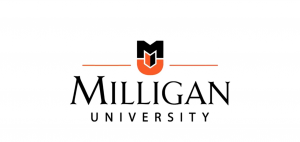 Milligan College has unveiled a new logo as the higher education institution prepares to transition to university status next month.
School officials including President Dr. Bill Greer were on hand Wednesday morning to reveal the new school image that will represent the identity of the school and athletic programs moving forward. The name change was announced last October following two years of study and input from several stakeholders including alumni, faculty, staff, the college's strategic planning committee and others.
A virtual reveal was conducted on Facebook Live and YouTube, and Greer started the ceremony discussing what led to the landmark decision in the school's 154 year history.
"Milligan University is a name that reflects both who we are today and the journey that led us to this moment," said Greer. "The university name is integral to a number of our strategic goals, and it allows us to expand the importance of the Christian liberal arts and our mission of educating men and women to be servant-leaders."
According to a news release, a description of the new logo includes, "an M and U which connect to form a book, representing both academic learning and the Bible. The shield, or chevron, is often used in academic regalia and represents Milligan's strength and longevity."
The college says the shield, "will unite all areas of campus and will be used for academics and athletics, while its academic wordmark will remain the same but will now include "University." The athletic wordmark has been revitalized with a bold font, signifying the strength and momentum of Milligan's athletic teams."
Milligan College becomes Milligan University effective June 1.
Photo Courtesy: Milligan via Facebook Live reveal