Greene County man charged after shootout at Clairborne County motel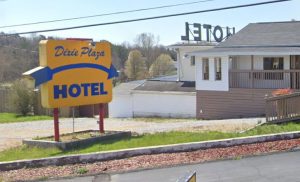 A Greene County man is among four suspects arrested late Wednesday after a shootout at a motel in Clairborne County, Tennessee.
Michael Shane Dixon is charged with three counts of aggravated assault after he was found hiding behind the Dixie Plaza Motel on Highway 25 in Tazewell, Tennessee, according to a report from the town's police department.
Officers found a pickup truck riddled with bullet holes sitting in the middle of the road and the victim inside identified as Luke Holebrook of Hallie, Kentucky. He was flown to Knoxville for treatment of a gunshot wound to the neck.
Holebrook and two other suspects, Jeannie Van Zant and Michael Rayburn, are facing multiple aggravated kidnapping and assault charges, police said.
Detectives recovered several weapons at the scene including an AK-47 rifle.
(PHOTO: Google Maps)