Unoccupied home catches fire Thursday morning in Bristol, VA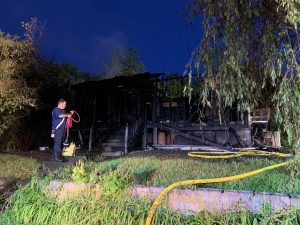 A fire investigator is on scene following an early morning blaze at an unoccupied home in Bristol, VA.
Bristol, VA Fire Chief Mike Armstrong tells Supertalk they were called to a home at the intersection of Vermont and Newport Avenue around 3:00 a.m Thursday morning.
When crews first arrived, they found the home fully engulfed, but did not find anyone inside the house as the homeowner reportedly recently deceased according to fire officials. Armstrong says the house is a total loss, with the fire also damaging a tree and power lines near the house, in addition to the floor being burnt out.
An investigator is planning to examine the cause of the fire. Other crews including the Bristol, TN Fire Department also responded to the house fire. No injuries were reported to any of the firefighters on scene according to Chief Armstrong.
Photo Courtesy: T.Adams/Supertalk 92.9