Mayor of Mount Carmel arrested Thursday night on domestic assault charges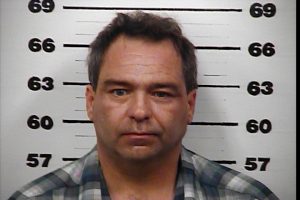 The Mayor of Mount Carmel, TN has been arrested for the second time this month, this time on domestic assault charges.
A report from the Hawkins County Sheriff's Office says deputies were called to a home Thursday night on Hemlock Street in Mount Carmel, where a female victim accused Christopher Jones of assaulting her. When speaking with Jones, he said no assault took place. The victim stated an argument began over her removing a TV from Jones's room, resulting in Jones allegedly shoving her to the ground. Officers say they noticed abrasions to her elbow and the victim said she was afraid of him.
Deputies arrested Jones on one count of domestic assault.
Photo Courtesy: Hawkins County Jail