City Manager: No curfew in place for Johnson City following street-crowding demonstrations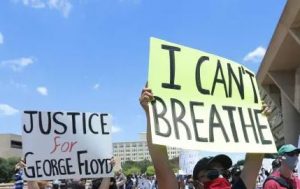 Johnson City City Manager Pete Peterson says there are currently no plans to impose a curfew within the limits following an evening of protesters ultimately refusing police commands to keep their march on the sidewalks.
"As long as things stay peaceful, there will be no need for a curfew," the manager said.
Dozens lined several downtown corridors to protest racism and police brutality following the death of Minneapolis resident George Floyd. Mayor Jenny Brock who was a participant in the demonstration along with Chief of Police Carl Turner said from her vantage point, the purpose of the peaceful protest was hijacked by others and it spread into the streets to disrupt traffic.
Police officers from surrounding counties and cities have been put on alert by Johnson City for additional help should another gathering impact safety downtown.
(PHOTO: Associated Press)