Report: Former UT Coach Johnny Majors dies at 85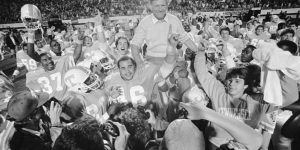 Former Tennessee football head coach, player and College Football Hall of Famer Johnny Majors has passed away.
Multiple media outlets including the University of Pittsburgh confirmed the news Wednesday morning. Majors coaching career spanned nearly 30 seasons across three programs, including a 16 season stint with the Volunteers, achieving 116 victories, including three SEC titles in 1985, 1989, and 1990.
John Majors, 1935-2020.

He led us to our greatest glory and changed Pitt forever.

Thank you, Coach. Rest in peace. pic.twitter.com/bPs4OEoQXW

— Pitt Football (@Pitt_FB) June 3, 2020
Prior to that, Majors played for the Volunteers from 1953-1956, earning an All-American honor, and two SEC Player of the year awards. He was 85 years old.
Photo Courtesy: University of Tennessee coach Johnny Majors rides victorious on the shoulders of the Tennessee Volunteers after the Florida Citrus Bowl in Orlando, Fla., Dec. 18, 1983. Tennessee defeated University of Maryland's Terrapins 30-23. (Source: AP Photo/Kirk McKoy)