Two injured in tractor-trailer, truck crash Wednesday on I-26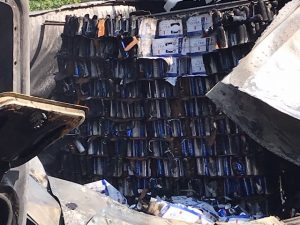 Two people were taken to the hospital following a crash Wednesday on Interstate 26 in Unicoi County.
A Tennessee Highway Patrol crash report says the accident happened just before 4:00 p.m when a tractor-trailer, who was being passed by a Chevy Silverado traveling westbound, had a tire blow out. One of the left axles caught fire, and the pressure from being on fire caused the Silverado to lift off the ground. Airbags deployed in the Chevy, injuring driver James Brown and passenger Angela Brown. Both had minor injuries according to the report. The tractor-trailer remained on fire following the crash, which was reportedly transporting beer according to TDOT officials.
I-26 West at MM 44 in Unicoi County is closed due to a tractor-trailer crash/fire. The tractor-trailer was reportedly transporting beer. pic.twitter.com/t8vbkpY616

— Mark Nagi (@MarkNagiTDOT) June 3, 2020
The driver and passenger in the tractor-trailer were not injured.
Photo Courtesy: Mark Nagi-TDOT via Twitter