UPDATE: Bid to remove bust of Confederate, KKK leader in capital building in Nashville fails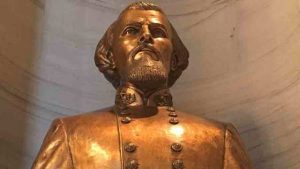 While neighboring Virginia is fighting in court to take down a monument of the Confederate past, Tennessee is choosing to keep one in the state capital for another year.
The House Naming, Designating, and Private Acts subcommittee voted 11 to 5 against a bill that would remove the bust of Confederate general Nathan Forrest from its longtime perch where it has been posted since the late 1970s.
The bill's author wanted to replace the statute of the former KKK leader with a more deserving Tennessean. The bill fails to go to the floor and is dead for the 2020 session.
A Vanderbilt University poll completed in December said 76 percent of participating state residents wanted the Forrest bust removed permanently from Assembly Hall.
(PHOTO: SuperTalk Archives)