NEW: NASCAR bans confederate flag at all properties and events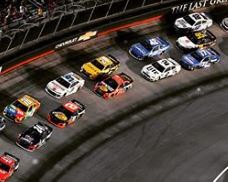 NASCAR on Wednesday banned confederate flags from being displayed at their properties and events.
The move was made after the sport's lone black driver, Bubba Wallace of Richard Petty Motorsports, called for the ban of the symbol most recognized with slavery and racism earlier this week.
Former NASCAR president Brian France tried to prohibit the confederate 'stars and bars' in 2015 following the mass murder of 9 black church members at a bible study meeting in Charleston, South Carolina.
Weeks later, the controversial flag was posted and displayed in several areas of Daytona International Speedway as some fans protested the stance due to the racing series' deep Southern ties.
This move comes a day after George Floyd was laid to rest in his native Texas following his death while in police custody in Minneapolis, causing an eruption of protests across the globe.
NASCAR said on Wednesday that it would ban the Confederate flag from its events and properties https://t.co/JDqbvd3GeI

— The New York Times (@nytimes) June 10, 2020
(PHOTO: BMS / Instagram)