Police continue search for suspect in Hamblen County armed robbery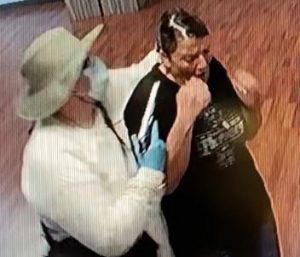 Police continue to search for a suspect in a strong-armed robbery that took place at a pharmacy located a few miles the Hawkins County border off Highway 11E.
A report from Morristown Police said the robber came into the East End Pharmacy just after 2:30 Tuesday with his gun drawn and then placed the weapon to one of the pharmacy technician's head while demanding pills.
Investigators said he may have visited other pharmacies in the region before robbing the store in Russellville.
The suspect is a white male standing between 5'6-5'9 inches tall weighing 250 pounds. He was carrying a silver handgun and was wearing dark cargo-style pants, a light-colored long-sleeve shirt, and a Boonie-style hat.
Police said he fled the scene in what appeared to be a blue Kia Optima.
(PHOTO: An unidentified pharmacy tech at East End Pharmacy is threatened by an armed gunman Tuesday afternoon during a robbery. / Morristown Police Department)