TN Economic Recovery Group to partner with UT-Knoxville researchers for data surverys regarding the state's reopening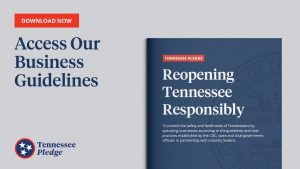 Tennessee's Economic Recovery Group is partnering with University of Tennessee Knoxville researchers, including the Howard H. Baker Jr. Center for Public Policy and the university's Social Work Office of Research and Public Service (SWORPS) for collection of survey data on the public's opinion of the reopening of the state.
The group will conduct surveys every two weeks throughout the summer that will help gather more information on things like Tennesseans sense of safety and economic well being as the state continues to move away from COVID-19 restrictions.
"Throughout the COVID-19 pandemic, we've taken a data-driven approach to evaluate and formulate the best response to protect lives and livelihoods," said Gov. Lee. "Business owners across Tennessee have really stepped up to adapt their practices to protect employees and customers, and this survey will help us gain a better understanding of how we can meet the needs of Tennesseans during this time of immense change."
"The collaborative partnership between the Baker Center and SWORPS will provide expert-level data collection and analysis, giving a welcome perspective to policymakers," said Matt Murray, director of the Baker Center. "It is important for state and local leaders to have the best information available regarding Tennesseans' attitudes towards the reopening of economy, and the Baker Center is excited to be in a position to help."
A separate survey says 77% of 1,100 Tennesseans polled support the Tennessee Pledge, with most of the respondents saying they continue to take additional precautions to prevent the spread of the coronavirus.
A link to the survey is available here.
Photo Courtesy: tn.gov