'#IStandWithBubba' trending following discovery of noose in Wallace's garage bay at Talladega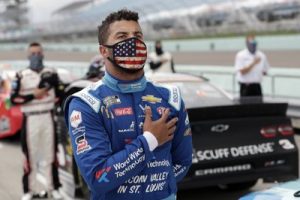 Bristol Motor Speedway was one of the thousands who voiced support for driver Bubba Wallace on social media a day after NASCAR officials reported a noose was found in his team's garage bay at Talladega Superspeedway on Sunday.
#IStandWithBubba https://t.co/VJ9vXvHfGQ

— BristolMotorSpeedway (@BMSupdates) June 22, 2020
A federal investigation has now been launched into the discovery of item following a racially-charged weekend in Alabama where dozens of motorists passed the track displaying confederate flags and a plane pulling a flag with the message 'Defund Nascar' flew above the speedway. A report from the Associated Press said the aerial banner was paid for by a Sons of Confederate Veterans group.
Wallace is an Alabama native who led the charge to have the flag banned from all sanctioned tracks and events which NASCAR agreed to enforce last week.
— Bubba Wallace (@BubbaWallace) June 22, 2020
(PHOTO: Associated Press)