Sessions Court Judge in Washington County, Tennessee requests time away from bench for medical reasons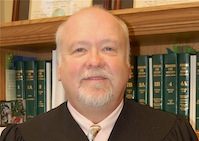 Officials have confirmed that Washington County, Tennessee Sessions Court Judge Jim Nidiffer has notified local and state officials that he is taking a leave from the bench to deal with medical issues.
County Attorney Allyson Wilkinson alerted county commissioners at their last session that a judge had contacted Governor Bill Lee's office about his departure and requested a replacement be named by his office.
Circuit Court Clerk Brenda Downs told us Nidiffer notified the governor on February 28.
Wilkinson noted that local attorneys interested in taking the post should contact county officials before July 3rd.
(PHOTO: WCTN)