McNally says removal of Nathan Bedford Forrest bust part of left-wing agenda to wipe out symbols of American history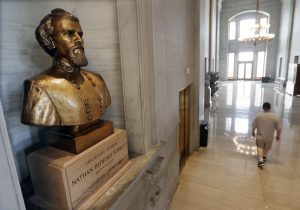 Tennessee Lt. Gov. Randy McNally says efforts to remove the bust of former KKK leader Nathan Bedford Forest out of the state capitol is just the tip of the iceberg in an anti-America, anti-history agenda.
McNally made the comments on his social media pages shortly after Governor Bill Lee said he would convene the State Capitol Commission to consider a vote to remove the statue.
This leftist movement will not stop with one bust in the Tennessee Capitol. It will continue and continue.

— Randy McNally (@ltgovmcnally) July 1, 2020
The lieutenant governor also said the left-wing movement seeks removal of not only Southern symbols but American heroes and history without the importance of viewing the Forrest bust in that context.
The commission has heard calls for decades for the Forrest figure to be placed in a museum instead of a pristine post that gives a spotlight for a racist leader.
(PHOTO: SuperTalk Archives)