Emory & Henry College to take inventory of past to promote diversity, explore change of 'Wasps' mascot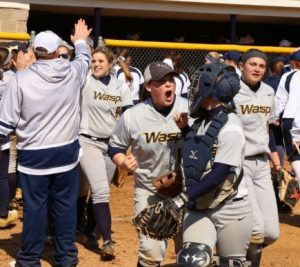 A panel at Emory & Henry College has been charged with finding potential alternatives to the school's 'Wasp' nickname.
In a statement issued by Emory & Henry President John Wells and the Office of Diversity, Equity, and Inclusion the mascot is being examined along with addressing the history of the school which was named after Bishop John Emory and Governor Patrick Henry, who the college said were both slaveholders.
Taking inventory to promote diversity will also include a look at the names of buildings on campus as well as publicly-displayed portraits, plaques, and statues.
A final report from that committee is scheduled to be released in January.
According to the college's athletic department, the Washington County, Virginia campus is the only team in college sports with the Wasp nickname.
(PHOTO: Emory & Henry College Athletics)