Bristol, VA Council votes to approve resolution asking the court to authorize referendum on casino gaming for November election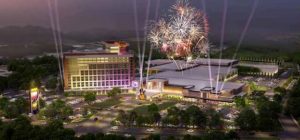 Bristol, VA City Council has approved a resolution asking the court to authorize placing a referendum on having casino gaming in Bristol for the November election.
Council members were unanimous in their vote Tuesday night, and follows last week's approval by the Virginia Lottery Board of the proposed Bristol Hard Rock Casino developers pre-certification plans.
If the referendum is authorized, the multi-year multi-faceted process would come down to a single question and a yes or no answer from voters on November 3rd.
Below is the question that voters would be asked:
"Shall casino gaming be permitted at a casino gaming establishment in the City of Bristol, Virginia at 500 Gate City Highway, Bristol, Virginia 24201 (former Bristol Mall) as may be approved by the Virginia Lottery Board?"
The full resolution passed last night can be found here- Resolution_Casino_Referendum_7.9.20__002_
Photo Courtesy: Supertalk File