BREAKING: Greeneville man charged with assaulting police officers in July back in jail after escape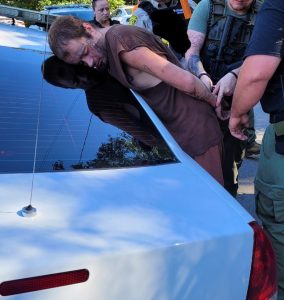 A felony suspect managed to mingle his way into another batch of prisoners at the Greene County Detention Center and then escape from the facility on Thursday.
SuperTalk has learned that Joesph Dale Hale, 30, was able to steal a vehicle from the downtown Greeneville area resulting in a manhunt that lasted 2 to 3 hours.
Hale was taken into custody on property just off of Kingsport Highway and is now being transferred to another facility.
Hale is facing several charges after a police pursuit on the same road on July 28 that ended when Hale crashed his car and then fired a number of shots at the pursuing officer. He then ran fro the policeman and was the subject of a five-hour manhunt that ended with his capture on Poor Farm Road.
Hale has a scheduled date in Criminal Court next month.
(IMAGE: COURTESY OF GREENE COUNTY SHERIFF'S DEPARTMENT)