President Obama to campaign in Virginia for McAuliffe this weekend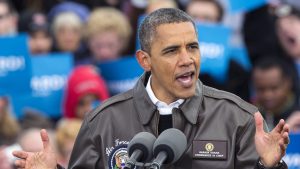 Democratic nominee Terry McAuliffe has announced President Barack Obama will be with him at a campaign stop in Richmond as part of a weekend of rallies.
First Lady Jill Biden is scheduled to appear with the former governor Friday in Henrico County and Georgia's Stacey Abrams will take the stage with McAuliffe in Norfolk on Sunday.
The big-name appearances could signal concern on behalf of Democrats following a state poll last week that showed Republican Glenn Youngkin gaining ground in the race.
(IMAGE: ASSOCIATED PRESS)