UPDATE: Bobcat that attacked SW Virginia residents tests positive for rabies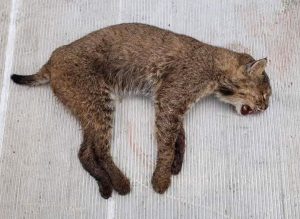 Further medical treatment is likely for three victims following a bobcat attack that occurred in Southwest Virginia.
State game officials confirmed that the animal was killed when it was hit by a car in Mouth of Wilson in neighboring Grayson County and the cat was carrying rabies at the time of the incidents.
One victim was flown to a Bristol hospital for injuries to his legs and arms. Investigators also said the bobcat tried to walk into an occupied home and attacked a dog and livestock located in the same area.
(IMAGE: Virginia Department of Game and Inland Fisheries)