NASCAR moves more races to national networks in 2022, has Food City Dirt Race in primetime on FOX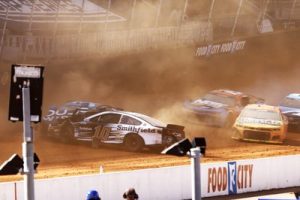 NASCAR has announced plans to broadcast 19 of its races to over-the-air channels to pull more eyes to the 2022 race season.
Those national broadcasts will include a primetime appearance under the lights for Bristol Motor Speedway and its second annual Food City Dirt Race during the Easter holiday weekend on April 17 on FOX.
Bristol's Bass Pro Shops NRA Night Race will air on USA Network on Sept. 17. The move will place that race in 5 million more homes than NBC Sports Network which is dissolving next year.
(IMAGE: ASSOCIATED PRESS)