Abingdon participating in America Recycles Day Nov. 13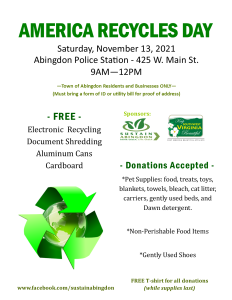 The Town of Abingdon is observing America Recycles Day on Saturday with a free recycling event. Abingdon residents can drop-in to recycle e-waste or have documents shredded. Cardboard and aluminum cans will also be accepted. This year's event is only open to Abingdon residents and proof of address is needed to participate.
A donation drive is happening in addition to these free services. Much-needed items include gently used shoes, non-perishable food, and supplies for the local animal shelter. This America Recycles event happens on Saturday from 9 AM to noon at the Abingdon Police Department.
(Image: Town of Abingdon)