Honaker's Jordan Stout signs rookie deal with Baltimore Ravens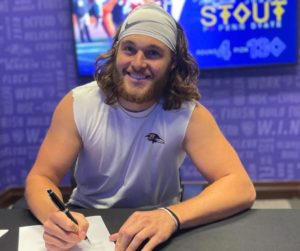 Another Southwest Virginia football great has put pen to paper for a rookie contract in the National Football League.
Honaker High School's Jordan Stout signed his deal with the Baltimore Ravens this week. The team plans for fourth-round pick Stout to replace 16-year veteran punter Sam Koch who announced his retirement.
Virginia Tech standout and Union High School superstar James Mitchell was a fifth-round pick of the Detroit Lions and signed his rookie deal last month.
(IMAGE: Courtesy of Baltimore Ravens Photos / Official webpage / DPI)