A Helping Hand: Rescue officials free stuck black bear cub from plastic jar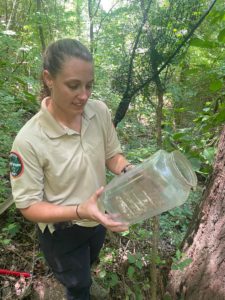 A black bear cub in Sevier County was helped out of quite the predicament by Tennessee Wildlife Resource agents. Officials with the TWRA and Appalachian Bear Rescue have been searching for the bear cub since it was spotted with a plastic container stuck over its head in Wears Valley on June 14th.
Rescuers spent days tracking the cub, and finally, it was spotted again on Monday. The bear was caught and the plastic container was successfully removed. The cub is now recovering at a rescue facility and will be released once it is re-hydrated and healthy. Officials remind the public, especially campers, to always secure garbage and recycle or crush these types of containers.
(Image: TWRA, ABR)