UPDATE: Several Buchanan County residents unaccounted for following flood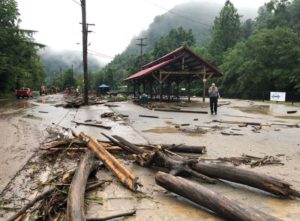 Flooding over an estimated 10-mile region of Buchanan County, Virginia has taken homes off their foundation and cut off several residents following torrential rains in the Whitewood valley.
State emergency management official Bill Grimes said well over 100 homes had flood water wash into their property. He also said that getting to those stranded by the damage will be difficult because of washed-out bridges and roadways.
Buchanan County Sheriff's Office Chief Deputy Eric Breeding said Wednesday afternoon that 40 people are unaccounted for and search and rescue teams from 18 localities including Bristol are deployed in the flood zone.
Early estimates posted by the National Weather Service said just over 6 inches of rain fell in that portion of the county over a few hours time.
(IMAGE: Courtesy of Rife's TV & Furniture Grundy / Official Facebook / DPI)