Appalachian Trail Conservancy adopts bear-resistant containers policy for overnight campers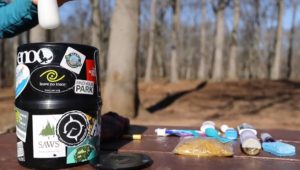 Increased encounters between hikers and bears on the Appalachian Trail are one of the factors in AT executives calling for visitors to invest and carry bear-resistant canisters for food storage.
Vice President of Trail Operations Hawk Metheny said the animals have picked up on the method of hikers hoisting food packs into the air and tied to trees and that has led to more bears becoming less afraid to enter a camp area.
The National Park Service has endorsed the plan that will also have several of the containers distributed along the trail for a sharing program.
(IMAGE: Leave No Trace Center for Outdoor Ethics / Official YouTube)