Hands-on: ETSU Criminal Justice seniors ride along with Johnson City Police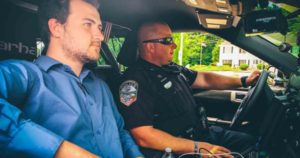 East Tennessee State University highlights the importance of hands-on experience to students preparing to enter the workforce. The institution includes required field work in most departments' curriculum, to give students an idea of how their field of study operates in the workforce.
The Department of Criminal Justice is no different; this summer, seniors have been shadowing officers with the Johnson City Police Department. ETSU says students had the chance to ride along with deputies as they respond to 911 calls and work car wrecks. This hands-on learning is something ETSU strives to incorporate, so students have a more seamless transition from college to employment.
Read the full story here.
(Image: ETSU)