Tennessee National Guard responds to flash flooding in Eastern Kentucky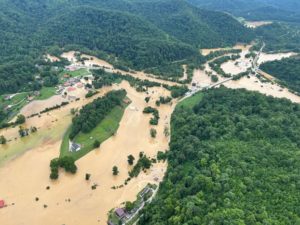 The Tennessee National Guard is assisting in flood relief efforts in Eastern Kentucky. Flash flooding hit parts of the Appalachian valley this week, which resulted in sixteen deaths and many in need of water rescue, according to Kentucky's governor.
Five Blackhawk helicopters were sent by the TN National Guard, including aquatic rescue teams and MEDEVAC personnel. They say they are working hand-in-hand with local and state emergency officials to help rescue those stranded by severe flooding.
Read the full story on TN.gov.
(Image: TN National Guard)