Lawmakers including Governor Youngkin condemn FBI raid on Mar-A-Lago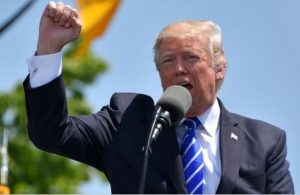 Politicians across the board took to social media following the FBI's raid on President Donald Trump's compound at Mar-A-Lago in Florida where boxes of documents were seized.
US Congressman Morgan Griffith said in a statement that Department of Justice and FBI officials need to respond immediately to the Trump action to save any portion of impartiality.
I share the deep concern of millions of Americans over the unprecedented search of the personal residence of President Trump. No former President of the United States has ever been subject to a raid of their personal residence in American history.

— Mike Pence (@Mike_Pence) August 9, 2022
Virginia Governor Glenn Youngkin called the raid stunning and politically motivated saying the Justice Dept. actions have no place in our democracy.
It's a fundamental truth in our country that no one is above the law. The FBI and DOJ must be allowed to continue their work free from political interference.

— Mark Warner (@MarkWarner) August 9, 2022
US Congresswoman Diana Harshbarger posted a message to Twitter saying the raid was an attack on our Republic while Congressman Eric Swalwell said the rule of law was taking shape and accountability was coming for the Trump administration.
The inconsistent and partisan application of the law by the FBI has gone too far.

The Democrats, for too long, have used our government agencies from the FBI to the IRS to target their political opponents.

This inconceivable raid is an attack on our Republic.

— Rep. Diana Harshbarger (@RepHarshbarger) August 9, 2022
Joe Biden is trying to use the FBI to subdue his top political opponent because they are afraid of him running in 2024.

They will do anything to hold onto power and the administrative state, full of left leaning bureaucrats, is willing to do their bidding.

— Rep. Diana Harshbarger (@RepHarshbarger) August 9, 2022
(IMAGE: Courtesy of Geralt / Pixabay)