Abingdon hosting town-wide yard sale August 20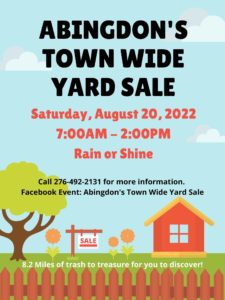 The Town of Abingdon is hosting a community yard sale next week. Organizers say more than 65 locations are confirmed for the event, which are spread across eight miles of the town. Many locations feature numerous families, hoping to make their items your new treasure.
Yard sale locations are happening between exits 19 and 14, and a detailed map can be found on Abingdon's Town-wide Yard Sale page on Facebook and on the town's website. The town-wide yard sale happens August 20th from 7 to 2.
(Image: Town of Abingdon)