Teenage boy classified as 38th flood fatality in Kentucky following post-cleanup illness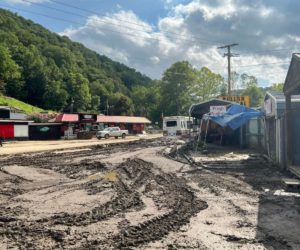 A Perry County, Kentucky teenager has been classified by state officials as the 38th victim of recent flooding after he became ill days after he volunteered to help with cleanup duties.
Funeral services were held Thursday for 18-year-old Aaron Mick Crawford who went into cardiac arrest and was taken to Lexington where he died after several days of treatment. His family told the Herald-Leader newspaper that the cause of death is still not known.
(IMAGE: Damage from recent flooding in neighboring Eastern Kentucky was captured in this photo by the Saint Paul, Virginia Fire Department. Their members traveled to the area last week to assist other agencies in cleanup. / SPFD / Official Facebook / DPI)