Turn it Blue: UT women's athletics to wear alternate uniforms this season to honor Pat Summitt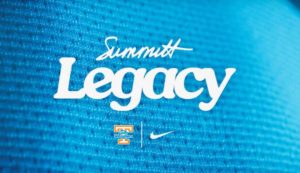 The blue trim that adorns the uniforms of the Tennessee Lady Vols has a new name and will make its alternate jersey debut this coming season.
Select women's sports including basketball and softball will wear Summitt Blue kits and uniforms on certain scheduled dates. The color scheme is named in honor of Basketball Hall of Fame member and historic Lady Vols coach Pat Summitt.
It's also to commemorate the 50th anniversary of the passage of Title XI legislation that prohibits sex-based discrimination at universities that receive federal funding.
(IMAGE: Courtesy of University of Tennessee Knoxville / UT Athletic Department)