Tennessee Wildlife Resources Agency hosting wildlife photography contest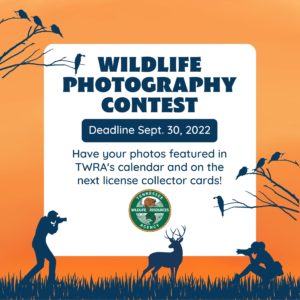 The Tennessee Wildlife Resources Agency is hosting a wildlife photography contest, open to the public. Winners of the contest will be featured in next year's TWRA annual calendar, as well as on license cards.
The public is welcome to submit up to ten of their best photos of fishing, hunting, boating, and wildlife native to Tennessee. The deadline to submit entries is September 30th. Photos must be horizontal, in JPEG format, and submitted online or by mailing a CD to the TWRA.
Learn more on the TWRA's official website.
(Image: TWRA)