Noted poetry writer and Virginia Tech professor Nikki Giovanni retires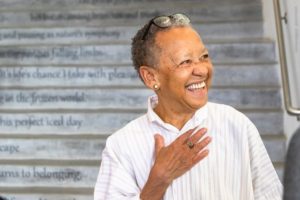 In 2007, her words brought comfort and strength to a crippled Blacksburg campus in the wake of one of the worst shooting massacres in US history.
Virginia Tech Professor of English and renowned poet Nikki Giovanni is entering retirement after 35 years of instruction. The 79-year-old writer plans to give more time to published works including a new children's book that debuts later this year at the Library of Congress.
Giovanni, who also gained notoriety during the Civil Rights Movement in the 1970s, was one of the first professors to request the removal of the Korean-born Tech student who killed 32 people two years later.
(IMAGE: Virginia Tech Department of English)