Lee: Soft plea deals in Tennessee lead to repeat offenders with violent results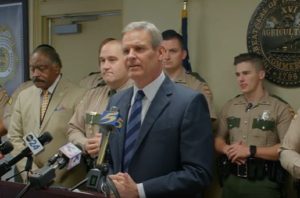 At a news conference on Friday, Governor Bill Lee said that the soft plea deals rendered in Tennessee courts are producing repeat offenders with violent results.
Tennessee Highway Patrol officers flanked Lee during his remarks that included an invitation to lawmakers for hard discussions on changing laws that would punish criminals with longer prison time.
"…Those consequences were on full display Wednesday night when we had an offender who had a plea deal down to a lesser offense go on a killing spree in West Tennessee," the governor said, referring to Ezekial Kelly who police said killed four people while broadcasting his crimes on Facebook.
Lee also referenced the case of mother and teacher Eliza Fletcher who police said was violently abducted by a convicted felon and killed.
It's time to discuss soft on crime plea deals that have serious & preventable consequences. The consequences were clear this week when a violent criminal who received a lesser charge went on a killing spree. A convenient plea deal should never come at the cost of true justice.

— Gov. Bill Lee (@GovBillLee) September 9, 2022
(IMAGE: State of Tennessee / Office of the Governor / Official Twitter)