WCSO: Man in custody, woman wanted after abducting victim for eight hours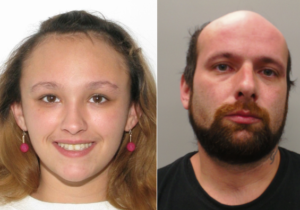 A man is in custody and a woman is wanted in Washington County, Virginia after they reportedly abducted, beat, and strangled a victim on Wednesday. According to a report from local police, the abduction happened near the 2700 block of Overbrook Drive in Abingdon.
A victim with injuries told police he had been lured into a residence and held there for over eight hours by both a man and woman. During his abduction, the victim was allegedly beaten, strangled, and forced to give his wallet, phone, firearm, and bank account information at knife-point.
The victim was able to eventually escape to a neighboring residence. The male suspect, Joshua Dean Mosley, 35, was located in the area and taken into custody. The female suspect, Madeline Mae Shortt, 26, fled the scene and remains wanted by police. Anyone with information on Madeline Shortt's whereabouts is encouraged to contact the Washington County, VA Sheriff's Office. She is considered armed and dangerous.
(Image: WCSO, VA)