Santa Train back on the rails for 80th year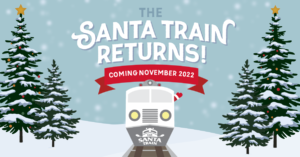 Officials with CSX, Food City, and the Kingsport Chamber announced on Tuesday the iconic Santa Train will be back on the rails this year for its 80th anniversary. According to a release, the Santa Train will take its original path from Kentucky to Kingsport, Tennessee on November 19th.
Officials say their initial plan was to keep the drive-thru format this year, which began at the beginning of the pandemic; but after community feedback and positive staffing developments, the Santa Train is back to its long-standing tradition for years to come. More details will be released in the coming weeks, officials say.
(Image: CSX Santa Train)